With the sharply rising number of coronavirus (COVID-19) cases around the world, more schools and educational institutions are recognizing the need for an online education website.
Imagine if you could teach your students using Google Classroom. Think about being able to maintain your educational brand with an online presence while communicating with your learners via Google Classroom, Skype, Slack or Zoom as the case may be.
With an online education website, you'll be leveraging educational branding via resources over the Internet. Likewise, from building a website on WordPress, Ning or Wix to getting educational content strategies, you can achieve your school's goals.
In terms of web content, which is one of the most crucial elements in this branding process, an education copywriter is your go-to writer.
An Online Education Website: Why Your School Needs One
1. Social Distancing
Social distancing is a phrase that has gained huge popularity in the last couple of months. And this is largely due to WHO and NCDC guidelines across the world.
The need to minimize contact with other persons or large groups has been considered as one of the ways to reduce the spread of COVID-19.
With our present reality, it means that schools have to be shut. In other words, let the kids stay home with their parents.
Now, what does this mean for your business? If you're a school owner or an educational brand, chances are high that you're a bit puzzled. Not about the coronavirus itself. But mainly about the future of your business.
Questions like, 'when is this going to end?' or 'when will schools reopen?' are most likely going through your head.
Here's the truth:
Nothing is set in stone right now. You can't see beyond your nose. All you know is today, this minute, this second. Not the next!
So, rather than worry your head about school resumption and the end of the school closure, think about making a successful education marketing plan.
Why, you ask? Read the next point.
2. Educational Branding
At this time of our lives, it's clear that many businesses and industries are crashing. To illustrate this, in one of his recent posts, Neil Patel shared his coronavirus industry findings.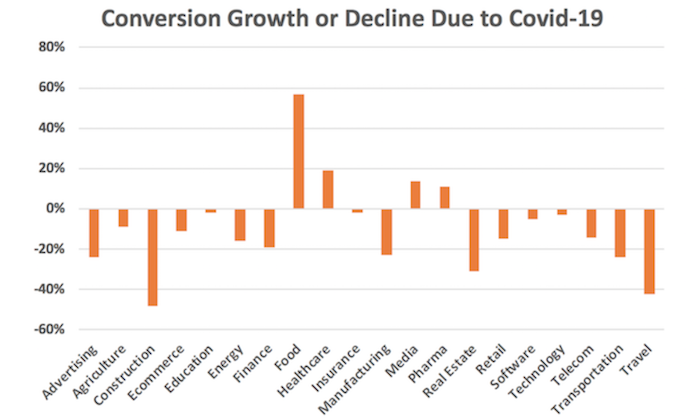 Out of 20 industries, less than 5 (healthcare, food, pharma, and media) aren't facing the worst of these times. While others like the travel industry had plunged deep into massive losses, other sectors such as education and technology have only suffered a tiny bit.
What this means for you as an education brand is that you can review your marketing goals to adapt to this world crisis. Brainstorm new ways to keep your business on the surface of the 'sea rather than under'.
A good way to do this is to consider educational branding. Branding in education implies pitching your business to the ideal target audience using the right marketing strategies.
Marketing for education might not seem like a popular thing. However, if you take a look at the education statistics, you'll be convinced to take action.
So, what you need first of all is the right content.
An approach I'd like to recommend is the 3Ds of Branding:
DESIGN – DOCUMENT – DISTRIBUTE
In other words, design your brand based on your previous profile to fit the Internet
Work with a web designer to project this information to your new website
Choose an education copywriter to flesh out your brand's information (most education copywriters specialize in writing for the education market)
Hire a social media strategist or manager to distribute your web content or share your copies on social media platforms.
Well, I've probably oversimplified them, since each stage of the branding can be quite time-consuming. But really, it's doable. Why won't you want to stay in business?
3. Stay in Business
Statistics on CNN show that over 6 million people are out of job at the moment. Some have been laid off while others can't access their businesses due to the need to stay home or self-quarantine.
Apparently, as the lockdown gets strengthened around the world, many brands are struggling to stay in business. From e-commerce to fashion brands, millions of businesses are losing not only money but also investments. This BBC visual guide will help you get a good idea of it.
Now, to prevent your educational brand from also crashing, you need an online education website. Also, how does maximizing SEO help your school?
You can continue to interact with learners, parents, teachers, and investors from different parts of the world. The consequence of this is that as you maintain the connection over the Internet, Google will overtime reward you when the storm is past. With hard work and SEO for schools, you'll make definitely Google happy.
So, creating and managing an online website for your education brand is a way of saying, 'I'm still alive. I haven't gone under just yet.'
The next most important factor is the impact on your learners.
4. Keep Your Learners Engaged
With an educational website for your school, academy or institute, you can engage your learners. Additionally, with the right tools and resources, students can visit your website to take courses or classes with teachers or instructors.
Furthermore, being able to stay connected to their school matters to kids. The same way older folks and world leaders are leveraging Zoom and Skype to stay productive; kids need an interface where they can feel like their world still exists somewhere out there.
If learners can visit your website, see your school logo, anthem, motto, popular education quotes or other things that remind them of school, it'd be great.
More importantly, you could redirect learners to Google Classroom for learning purposes.
Google Classroom doesn't require so much. You only need to
Create or Select your Google account
Create class
Add class name (e.g. GIANTS)
Enter Section (e.g. UPPER BASIC)
Indicate the Subject (e.g. ENGLISH LANGUAGE)
Add Room (e.g. ROOM B)
Click create.
When you've completed this phase, you'll be presented with the created class information and a class code. The class code is a combination of letters and numbers. Students can join the class using this class code.
On this new page, you'll notice the input area where you can 'share something with your class.'
Just beneath that, you'll see the area for communicating with your students. Basically, this section allows you to send out announcements and respond to students' comments.
Five other perks of Google Classroom are:
You can track upcoming classes in the dashboard
You're able to select a theme or upload a photo (of your school maybe)
You can add your teachers and students under 'People'
Assignments or classwork can be easily given or assessed
And tracking marks is easy with the use of 'Marks'.
5. Be Visible to a Wider Audience
Adapting your school to the Internet is a brilliant way to reach a wider audience. Try seeing this marketing strategy as an opportunity to connect with more learners or attract more forward-thinking investors.
When your school has an online education website, you aren't limited by time or space. Geographical location no longer matters.
The Internet doesn't care so much about whether you're in a small village in the south-west of Nigeria or you're in a big city in the United States.
What really counts right now is your ability to maximize SEO and the best search engine practices to boost your visibility. Copywriters who provide content for the education sector are the best people to work with at this stage.
Besides the fact that education copywriting specialists know the content writing keywords that apply to education, they are also reliable for helping you research keywords and the latest trends in the education industry.
Overall, an online website for your school brand will position you right in front of those you truly care about. And how do you show them you care?
6. Show Your Learners that You Care
The first step in assuring your learners that you care is by creating an online website. With an education website, you prove to your learners, their parents or guardians, and the world that you're unstoppable.
COVID-19, social distancing, quarantine or the lockdown are all not enough to get you off the lips of your audience.
But it doesn't stop at the website. As your online education website keeps getting built and grows in richer content, you should encourage social shares.
When people interact with the content on your website, ask them to share with friends and family on social media.
There's no denying the fact that Facebook, Twitter, WhatsApp, Instagram, TikTok, and LinkedIn are the second homes of everyone at home.
So, the best place to find your audience and prove to them that you care is to meet them where they are.
How?? As you set up your school website, maybe on WordPress,
Create social media accounts on at least any four of the above platforms
Choose your social media platforms based on credible data about where your audience truly is
As you produce content, share them on these platforms
Ensure that your education copywriter adds calls to action that persuade readers to share your content with their loved ones
Keep monitoring your engagement on social media
Respond to feedback and questions
Don't limit yourself to sharing only educational content. Share content that project positivity, hope, and the willingness to combat isolation, depression or fear.
What do you think these steps would result in? Revenue growth!
7. Grow Your Revenue
For each day that we spend in lockdown, many businesses around the world are losing revenue.
In addition, no new profits are being made. So, the question is, 'how do I preserve my revenue even if I can't make more money during the coronavirus (COVID-19)?'
Have an online education website!
With your school now on the internet, you can communicate with your learners, their parents, and teachers. Also, you can build more relationships with investors or educators in other parts of the world.
More so, by consistently sharing educational-based content, you're keeping your name on the mind of the people who engage with your content.
In the long run, you'll be well-positioned to grow your revenue when it's time to get back to work. And the next point is closely tied to this.
8. Retain Valuable Teachers
With an online education website, you'll earn the trust of your teachers. Schools are quiet. Classrooms are empty, obviously.
Many teachers during this period are taking the time to do other personal things or take online courses to boost their skills and knowledge.
Now, seeing their school online will definitely give teachers hope that their lives aren't ending just yet. For teachers, when you create an education website:
They don't have to stop teaching
They see alternative ways to communicate with their learners
They'll improve their use of technology for teaching
Depression from not teaching would be sent far, far away
Learning how to teach online courses becomes vital
Lockdown doesn't mean locked out of their jobs
They're well-positioned to teach other learners from outside their state or region!
With these promises of a better today in spite of the millions of COVID-19 cases, your valuable teachers will stick with you. They'll eagerly offer their expertise and knowledge on Google Classroom or whatever platform you choose to use.
Best of all – your teachers are the ideal point of contact for people seeking to know more about your school. Ultimately, your online education website is going to help you build something more – your online presence.
9. Build Your Online Presence
Having done so much and put so much effort into creating a strong online website for your education brand, you most likely want to see results.
The best of all results, besides growing your revenue, is building a strong online presence.
What are the upsides of an online presence?
Reach more people
Stay visible
Boost revenue
As your education copywriter puts up more educational copies on your school blog, you become visible to more people.
And when more people see your brand's website, they'll want to tell their friends and family (and foes, if applicable) about you.
The bottom line: the more quality you offer, the more search engines will love you. And they'll show you to a greater audience. Equally, the greater audience will share you with even more people. And you'll become a celebrity in your own right.
The biggest perk of all is what you get in the final point.
10. Become an Industry Authority
Your online education website will make you an industry authority. While this might sound exaggerated, it's the truth.
Becoming an industry authority is simply about quality, consistency, and care. Take a look at the educational sites on this blog. They have rich content as well as powerful, persuasive designs.
Tell people you have what they need. Next, keep giving it to them. And never stop reminding them that you're doing it for their good.
You don't have to replace your competitions. In fact, you may not be able to get them out of the way for several months.
But if you're faithful to your education brand, and you work with a successful education marketing plan, you'll create your voice.
And when your voice is distinct, you've closer to the peak.
You'll be an industry authority, not limited by time or space.
Are You Convinced about Creating an Online Education Website?
With the ten reasons patiently and carefully discussed above, I'd assume you're thinking about acting on it already.
But don't be so quick. Count your costs first. You need:
Money
The right team
Time
Patience
Information
These five factors should guide you as you prepare to have your educational brand on the Internet. It's never enough to have a website with content. As a matter of fact, you need more than keywords or tools.
The first step in the right direction is to talk to an education copywriter. Consult with a copywriter who offers education copywriting services for anyone in the education sector.
Ask the right questions.
Talk about your business.
Create a scope.
Set a timeline.
Request the education content writing quote.
Find out the best platform to host your education brand.
Take baby steps toward surviving COVID-19.
Wrapping Up
With this detailed guide, I've given you reasons to 'relocate your school' to the Internet.
Whether your goal is to keep your learners and teachers or reach a wider audience and stay visible, an online education website is the solution.
Are you overwhelmed with the information in here? Do you feel like, 'where do I start from?' I know that feeling.
I can help you. As an education copywriter who's been writing educational copies for about three years now, I know the space reasonably well.
As a teacher of kids under 3, children between ages 9 and 19, and adults not older than 50, I know how to understand and communicate with learners.
Reach out to me for a free consultation. Let's talk about how we can create an online education website for your school.
Until COVID-19 is out of our lives for good, this is our reality. So, you've got two choices. Keep asking the question, 'when is it going to end?' or take action and relocate your school to the Internet.
Call me at +234-706-441-1970 or send an email to adenikembabalola@gmail.com. Alternatively, you can fill the form on the contact page.
Remember, you are not alone. We're in this together. And we will win!